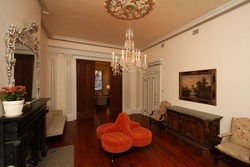 New York, NY (PRWEB) March 24, 2010
The restoration of an historic mansion at 436 West 20th Street — a 10,000-square-foot West Chelsea property converted into five individual, impeccably appointed rental units — is nearing completion after 20 months. The Federal style building, constructed by the Cushman family for a very wealthy merchant in the early 1800s, now showcases its original pilasters, ceiling medallions, 13 wood-burning fireplaces and re-milled floorboards throughout. The mansion sits on the famous Cushman Row, between 9th and 10th Avenues and offers picturesque views of the Episcopal Seminary gardens and the Hudson River.
Each apartment boasts unique characteristics and details. For example, the duplex penthouse comprising the 5th and 6th floors has an enormous loft-like feel with 17-foot ceilings, three skylights, a 500-square-foot office, a rooftop garden and direct access to another south facing outdoor garden. The Parlor floor on the first level houses the mansions original ballroom, two 1920s Baccarat chandeliers and impeccably restored moldings. The plaster work alone on the Parlor level took 7 months of aroundthe-clock restoration work, notes the propertys co-developer and exclusive broker, Michael Bolla of Luxury Lofts and Homes who, along with business partner Michael Daniel, has overseen the renovation of the 175-year-old mansion, sparing no expense while turning the single family residence into gem-like individual apartments.
The homes come furnished with custom upholstery and antique pieces by the prominent George Smith furniture company. Each item has been handpicked to complement the interiors, says Peter Howlett, George Smith Director of Operations, who worked closely with Michael Bolla in creating interiors that have a feel of timeless luxury. George Smith has provided not only the upholstered furniture in the apartments but also the accessories and antiques that give each room their own magic. The beautiful architectural bones of these unique apartments are immeasurably enhanced by the addition of the George Smith furniture and the result is a truly memorable and elegant home environment, notes Howlett.
21st century amenities have also been installed throughout the building. For example, the mansion boasts a large elevator that fits five people and video security with armed guard backup by DGA Security Systems, Inc. In addition, every room is built within a floating wall and floor system further buffered with two to three layers of state-of-the-art sound insulation called QuietRock (a technology from Quiet Solution) and copious amounts of plaster.
One of the mansions rarest amenities is the services of a house butler, who among other things will hand-deliver mail, arrange entrance for the housekeeper, arrange for dinner reservations, massages and be available to light the mansions fireplaces. Other amenities being offered include: regular delivery of Organic Avenue's signature juices, purified water and vegetable drinks, daily private Jivamukti Yoga sessions and complimentary consultations with top wine consultant (and Waverly Inn Wine Director) Janine Lettieri.
Leases are being offered on a short-term or 12-month basis. Four of the residences have already been rented, but reservations are being taken. The mansion's second floor — an 1,800-square-foot, two-bedroom, two-bathroom apartment — is currently available for rent at $ 20,000 per month. This residence comes with three working wood-burning fireplaces, grand mahogany doors, Bosch washer and dryer, Miele dishwasher, Liebherr refrigerator and stove, and a wine cooler by Viking. The views from the second floor are sublime — you overlook the Seminary's close and from the back you can see all the way to the river, notes Bolla.
This is a very rare opportunity for someone to rent an historic, one-of-a-kind space in Manhattan, he continues. The apartment is ideal for someone in need of a short-term home in New York, an individual or couple that does not want to sacrifice luxury or originality, and that demands privacy. These apartments have a very elegant, European sensibility. There is no other rental in New York that matches this level of d