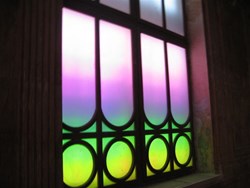 Lynnwood, Washington (PRWEB) September 19, 2013
Solid Apollo, a custom LED lighting solutions provider has recently worked with a set of unique businesses projects which perfectly highlight just how versatile LED lights can be. The Lynnwood based company manufactures and configures high quality LED lighting fixtures such as linear lighting systems and custom architectural lighting, with no project being too exotic or large. The design team at Solid Apollo company used systems of LED strip lighting and other high-grade LED lighting products to light up a yogurt franchise, a new type of vehicle, and top-tier art, as well as well as creating unique, one of a kind products never before seen on the market.
Earlier this month, Solid Apollo outfitted the new and improved Cycle Saloon, a pedal-powered trolley which transports patrons in a safe and unique way between nightlife events. Solid Apollo LED designed a one-of-a-kind lighting solution using RGB Light Modules; bright and efficient LED sign lights which are a waterproof lighting system perfect for traveling across Seattle, rain or shine. Cycle Saloon operators control their lights with the ChromaFlow Remote, for controlling over 16 million distinct colors; a perfect option for providing the right atmosphere for customers while increasing vehicle visibility. The Cycle Saloon is now a unique Seattle landmark, which attracts more customers every month thanks to its custom LED lighting system.
Cool Bliss, a frozen yogurt franchise which needed to reinvent its theme, worked with Solid Apollo to create a complete overhaul of its lighting. Using bright 72W RGB Strip, and a full DMX light system, customers can now enjoy season warm-light displays during winter, and cool light displays during summer months, greatly improving sales and customer returns. Thanks to RGB LED lighting, Cool Bliss is now fully in control of their custom lighting atmosphere.
LED lighting is quickly become a staple of the custom chandelier and blown-glass industry thanks to Seattle Based master artisan glass maker Robert Kaindl. World-Famous for his unique chandeliers, bowls, furniture, and art, Robert has been working with LEDs for nearly a year, illuminating his beautiful glass with Solid Apollo LED lights. By utilizing these efficient and bright lights, Solid Apollo designers highlighted his amazing art for years to come without worrying about heat or replacing bulbs.
Manuel Barquin, President at Solid Apollo, expressed his passion of helping customers out with unique projects, Custom LED Lighting Solutions are part of how Solid Apollo goes beyond a traditional lighting company. We want to empower our unique customers with the efficiency, power, and beauty of LED lights.
With a raised global awareness of energy use, and an increasingly creative culture throughout the United States, LEDs are expected to gain exponential use in everyday lighting and custom lighting projects alike. Solid Apollo is distinguishing itself with a no-compromise high grade product that can last a lifetime, increase sales, and help light up passions worldwide.