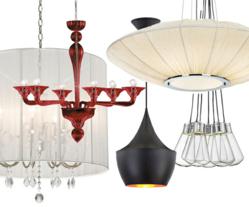 Los Angeles, California (PRWEB) March 31, 2013
On the heels of major home decor industry markets in Las Vegas and High Point, design writers for Euro Style Lighting have identified the top five trends in modern chandeliers for 2013. By looking at the most popular customer picks alongside the latest design and color currents within the industry, these design writers have specified style categories that consumers will want to consider before shopping for a new chandelier or pendant light.
Trend 1: Its fun being green.

For the modern home and todays shoppers, saving electricity and saving money is good, and being green is good, says Euro Style Lighting design blogger Cori Magee. As spiraling environmental and financial costs increasingly inform consumers buying habits, energy efficient lighting is a hot topic these days. Pendant chandeliers are particularly well-suited to LEDs, continues Magee. The unfettered simplicity of these lights has actually been en vogue ever since George Nelsons iconic designs of the post-war era, but outfitted with a cool-running LED, pendants are more flexible, and green, than ever. Multi-swag fixtures and the extremely popular trend of clustered lights are now possible at a fraction of the energy cost of incandescent bulbs.
Trend 2: Lay on the color.

Color in lighting this year is big and bold, explains Brent Turner, contributor to the Euro Style Home Blog. Since Pantone introduced Emerald Green as the color of 2013, big primary colors like red and blue have been showing up as hearty complements. Pantones Monaco Blue, named the Color of Spring 2013, is just one of many indicators of this trend. Certainly, brushed steel and chrome finishes will always be stalwarts in modern design, but were also seeing designers taking big leaps into color. Chief among these colors is redbright, loud, unapologetic, fire engine red. Red glass chandeliers and blue glass mini pendants are among the many designs available that exemplify this bold use of color.
Trend 3: Glam and glitter.

Another recent trend in modern home decorating is the combination of traditional glam elements like crystal and glass with the simplicity of modern design to establish eye-catching juxtapositions. Magee explains how: We invariably gravitate towards conversation pieces when decorating our homes, and a tasteful mix and match of styles is the ultimate conversation starter. Where one might expect a simple ceiling lightin the bathroom for instancea modern crystal chandelier may be what the style doctor actually ordered. Modern design can be very playful.
Trend 4: Back in black.

Just as everyone needs a little black dress, the same could be said of lights, continues Magee. In reviewing designs featured on our blog over the past few months, theres a common thread we discovered: every chic room needs a little black chandelier. Black chandeliers and pendant lights have seen an uptick in sales at EuroStyleLighting.com and may very well represent a growth area in home decor for years to come. Just as in fashion, black truly is the ultimate color of elegance and versatility.
Trend 5: Its always Mid-Century time.

The final trend that the Euro Style Lighting team identifies as in is perhaps not an actual trend per se. Magee explains, Mid-century modern furniture and lighting continues to be the standard bearer for more than half a century and counting. Boasting clean, organic forms fashioned from simple materials, retro modern lighting fixtures are still one of the best ways to brighten a living room or a dining room table. Euro Style Lighting carries a selection of designs inspired by the most iconic Modernist designers.
Final Tips

Before deciding upon a chandelier style, there are a few final variables to consider, explains Cailtin Flemming, founder of SacramentoStreet.com and contributor to the Euro Style Home Blog. When I source lighting for myself or clients I look for style, diameter and the bulb wattage. And always remember, for the right hanging height, position the bottom of the chandelier about 30-32 inches above your dining room table for the best lighting. These tips, along with the top five trends in modern chandeliers, should give consumers some choices that are both stylish and smart for 2013.
About Euro Style Lighting

Los Angeles based Euro Style Lighting is an online retailer specializing in contemporary lamps and lighting fixtures for the home. The company also offers of furniture and home decor, ranging from today's newest designs to ultramodern style. The Euro Style Lighting buying team sources fashion forward designs from across the globe to offer customers a collection of competitively priced products that emphasize aesthetic value, quality and with a growing selection of LED and fluorescent lights energy efficiency. Featured designers include Possini Lighting, Karim Rashid, Holtkoetter, Robert Sonneman, Jonathan Adler and more. In March 2012, Euro Style Lighting launched the Euro Style Home Blog, an information and inspiration destination for lovers of modern design, architecture and art.
Find More Chandelier Cleaning Press Releases