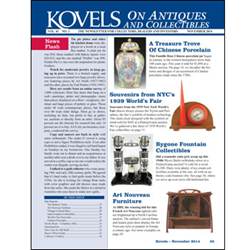 Cleveland, Ohio (PRWEB) November 05, 2014
Kovels on Antiques and Collectibles serves up some old-fashioned fun in the November newsletter with pictures, descriptions and prices of soda fountain collectibles. Everything from ice cream scoops and cone holders to milkshake mixers and dipping machines were offered at a Pennsylvania auction where a Myerss Bullet double milkshake mixer sold for a sweet $ 3,300. A Famille Rose Chinese porcelain covered jar made over 100 years ago sold for $ 1,896 at a Maine auction. Chinese porcelains made it to the Western World starting in the 16th century and Kovels November sale report helps decipher some of the histories and designs. Learn about the curving shapes and naturalistic detail of the Art Nouveau style that became popular in Europe a century ago. A winning bid of $ 885 for a French Art Nouveau lighted cabinet brightened up a North Carolina auction that featured chairs, tables, stands and cabinets made about 1900 by European Art Nouveau furniture designers. Pictures, descriptions and prices of pieces are in Kovels November issue.
Souvenirs from the 1939 New York Worlds Fair sold at a Pennsylvania auction are also featured in Kovels November newsletter. See a sleek electric clock designed with the Trylon and Perisphere, the fairs symbols of modern technology, that sold for $ 403, as well as other souvenir items showing the two iconic buildings. Demand for everything made by Shakers, members of a religious movement founded in England in the 18th century, is high. In Novembers newsletter, the Kovels picture tools and accessories used by resourceful Shaker artisans, cooks, pharmacists, tailors and farmers. They sold at a Massachusetts auction, where buyers paid $ 4,130 for a Shaker apple peeler, $ 3,186 for a Shaker laundry basket and $ 855 for a Shaker mixing paddle. More than 100 fashionable womens hats sold at a late summer auction in New Orleans and Kovels latest issue pictures fancy vintage cocktail hats decorated with netting and feathers along with their selling prices.
Terry Kovel reports on her favorites at the Antique Advertising Association of America annual convention in Columbus, Ohio, where she was keynote speaker. New Uses for Old Stuff pictures a chandelier with old cooking utensil drops. The popular illustrated Collectors Gallery answers readers questions about a miniature Empire chest, an expandable postcard and a Seth Thomas clock. Novembers Dictionary of Marks reports on pictorial marks that hint at the manufacturers names. The Buyers Price Guide has current prices of dozens of antiques and collectibles.
Kovels on Antiques and Collectibles is available as a print subscription or as a digital version that is part of the Kovels.com Premium subscription.

Terry Kovel is Americas foremost authority on antiques and collectibles. She is the well-known columnist and author of more than 100 books on antiques and collecting. With her daughter, Kim Kovel, she co-authors the best-selling annual Kovels Antiques and Collectibles Price Guide. The all-new 2015 edition is now available. They will discuss antiques and collectibles topics with accredited media. Photographs are available. Contact pr(at)kovels.com.
About Kovels.com

Kovels.com, created by Terry Kovel and Kim Kovel, provides collectors and researchers with up-to-date and accurate information on antiques and collectibles. Kovels Antiques was founded in 1953 by Terry Kovel and her late husband, Ralph. Since then, Kovels Antiques has published some of Americas most popular books and articles about antiques, including the best-selling Kovels Antiques and Collectibles Price Guide, now in its 47th edition. The Kovels website, online since 1998, offers 900,000 free prices, and includes a free weekly email, Kovels Komments. Kovels.com gives readers a birds-eye view of the market through the latest news, auction reports, a Marks Dictionary, readers questions with Kovels answers and much more.
Contact Information:

Liz Lillis

216.752.2252

Pr(at)kovels(dot)com
Find More Chandelier Press Releases