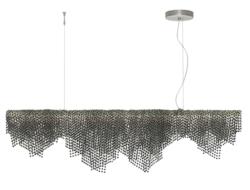 Chicago, IL (PRWEB) June 06, 2013
LBL Lighting will show several new glamorous luminaires at the June Dallas International Lighting Market which will deliver the brands promise of design-infused lighting with an innovative twist. The tradeshow will be held June 20-23 at the Dallas Market Center; LBL Lightings showroom is #3925-TM.
Crystals and Chains

The company will introduce the new, silver and black Jet version of LBL Lightings Mademoiselle line, including a linear suspension, pendant and wall sconce.
Also available in Clear or Golden Shadow crystals, the Mademoiselle linedesigned by 2012 ARTS nominee Dennis Beardwas inspired by the flow of a formal and lavish gown. It epitomizes luxury and glamour with draped Swarovski ELEMENT crystals artfully set throughout a web of Sterling Silver chain with a Rhodium finish to maintain its original shine. With its breathtaking aesthetic, its well suited for both residential and commercial applications.
The Jet version of Mademoiselle line gives customers a third, very dramatic choice with its prominent black crystals set off even more by the silver chain, said Beard. The impact made by Mademoiselle in a residential or commercial space is analogous to the impact a statuesque woman dressed to the nines makes when she enters a room. Both visually communicate runway drama and command attention.
The new Mademoiselle linear suspension in Jet features more than nine meters of draped Swarovski ELEMENT crystals over a linear aluminum body that houses the slim LED light source. The Mademoiselle suspension is 50 long and 13.75 tall with the crystals.
The new Mademoiselle No 2 pendant has a double layer of webbed sterling silver Swarovski ELEMENT crystals draped over a halogen MR16 lamp. Its dimensions are 8 long and 3 in diameter (including the crystals). LBL Lighting also offers a Mademoiselle No 1 pendant with a single layer of crystals.
The Mademoiselle wall sconce in the new Jet color has a die cast metal base with a choice of single or double layers of Swarovski ELEMENT crystals. It includes a 6-watt, 3000K, 80 CRI LED module. ADA compliant, its dimensions are 13 in length, 5 wide and 2.3 deep for the double layer version and 11 in length for the single layer version.
Inspired by a striking theatrical stage backdrop, the new-for-2013 Camelot wall by LBL Lighting has layers of Satin Nickel chain maille suspended from an elegantly simple die-cast metal base. A 3000K LED module which adds sparklingand energy efficientillumination shines through the chain maille for a dazzling effect. With dimensions of 5 wide by 7 high by 2.3 deep, Camelot is ADA compliant. Mounts down only.
Rhinestones

LBL Lighting will introduce three new color combinations to its new-for-2013 Dolly low-voltage pendant line in June. Dolly is a beautiful and sleek, slotted metal (with a Satin Nickel finish) or Rubberized Black cylinder which reveals an inner layer of brilliant rhinestones. Dimensions are 10.6 tall and 3.3 in diameter, and this fixture includes one, 6-watt, 3000K LED module and 6′ of field-cuttable cable.
The new color combinations are: Dolly with Gold rhinestones in the Rubberized Black cylinder, Clear rhinestones in the Rubberized Black cylinder and Black rhinestones in the metal cylinder with the Satin Nickel finish.
Dollys additional color options are Satin Nickel exterior and Amber rhinestones; Satin Nickel exterior with Gold rhinestones; Rubberized Black exterior with Black rhinestones; and Satin Nickel exterior with Clear rhinestones.
Metal Looks with a Twist

The beautiful new-for-2013 Zuri pendant by LBL Lighting is made of glossy, Italian glassbut an intricately crinkled metal appearance gives it a unique, never-seen-before twist. An optional Classic Edison lamp furthers its conversation-worthy design. When not illuminated, Zuri has a reflective surface making it a piece of art. Zuri comes in three colorsBlack, Copper and Silver.
Contemporary Outdoor LEDs

One of many additions to LBLs outdoor category for 2013, the new Tav 18 outdoor is a metal frame washed with brilliant LED light available with an optional stone insert. The smaller Tav 14 is 14 high, 6.9 wide and 3.3 deep. It includes one, 11-watt 3000K LED module (120v or 277v). With dimensions of 17.5 high, 6.9 wide and 3.3 deep, its ADA compliant. Its color options are Metal/Bronze; Metal/Gunmetal; and Stone/Gunmetal.

At 17.3 tall, 6.5 wide and 3.9 deep, the new Zari 18 outdoor has a curved pattern inspired by New York City subway gratesand its highlighted with a wash of LED light. The Zari 11 is 11.4 tall, 6.5 wide and 3.9 deep, making it ADA compliant. Zari includes one, 10-watt 3000K LED module (120v or 277v). Finish options are Black or Silver.
About LBL Lighting:

Headquartered just outside of Chicago in Skokie, Ill, LBL Lighting has been designing and manufacturing some of the most beautiful and creative lighting in the industry for more than 40 years. The companys diverse portfolio of high design-infused lighting products includes a wide range of chandeliers, suspension pieces, flush mounts, wall sconces, decorative glass pendants, architectural heads and outdoor wall fixtures. LBL Lightings products can be found in lighting retailers and through sales representatives across North America. To view products, visit http://www.lbllighting.com.
About Generation Brands:

As parent company to LBL, Generation Brands is one of Americas leading companies serving the lighting, electrical wholesale, home improvement, home d