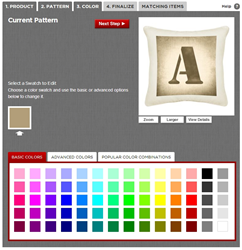 Los Angeles, California (PRWEB) February 28, 2015
Lamps Plus introduces a new line of custom decorative pillows in art print designs, available in both pre-selected and design-your-own color combinations. The pillows are printed-to-order and hand-filled in the company's California workshops and feature more than 50 different unique art options ranging from classic sculptural details to a selection of modern and retro graphics.
"If the past was about consumers following trends, the future is about consumers creating them," explains Dennis Swanson, President and CEO of Lamps Plus. "The new art print pillows join a growing selection of lighting and decor that can be personalized using our Design Your Own tool." This unique web feature allows users to custom specify patterns and colors across a wide range of lamps and lighting fixtures, as well as wall art and, now, decorative pillows.
Each custom art pillow is filled with a 95/5 down/poly-blend mix. Two pillow cover types are currently available: an all-white canvas design and white canvas front with beige micro suede sides and back. The new Lamps Plus art print pillows are available for $ 59.95 at: http://www.lampsplus.com/products/category_home-textiles/type_decorative-pillows/feature_art-print-pillows/.
About Lamps Plus

For more than 30 years, Lamps Plus has been synonymous with excellence in the retail lighting industry. Established in 1976, Lamps Plus is the nation's largest specialty lighting store, with dozens of retail locations throughout the western United States. In 2014, LampsPlus.com was named a Top 10 Housewares/Home Furnishings e-tailer and a Hot 100″ world's best retail website by Internet Retailer Magazine. Together with its retail locations, the company serves customers nationwide with the largest selection of functional and decorative lighting fixtures, accessories, furniture and home decor. This selection includes hundreds of products, ranging from traditional chandeliers to the latest in home decor, available exclusively from Lamps Plus. The company also holds several patents for innovative lighting. Services offered include in-home lighting consultations, in-store workshops and installation from expert, licensed electricians. American Lighting Association certified designers are available to offer product recommendations and advice in all our stores, by phone or online at LampsPlus.com. The Lamps Plus family of websites also includes 55 Downing Street and Lamps Plus Open Box. Visit the official Lamps Plus website: LampsPlus.com.