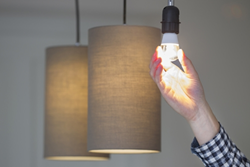 Chicago, IL (PRWEB) December 29, 2014
The Federal Savings Bank, a Midwest based lender enjoys hearing its newly approved clients talk about how they are going to decorate their new homes. Many of these first-time homeowners may not realize that they have a big decision to make when choosing when a light bulb burns out. Sure, some can pop down to the corner store and pick up whatever bulb is on the shelf, but that option is unlikely to provide them the energy and cost savings they would appreciate. When the first light of their new home dies, this is the time for owners to decide which type of bulb is right for them.
Keep your money in your wallet

Many people have been using compact fluorescent light bulbs for years, which provide some energy savings compared to more traditional incandescent bulbs. But LEDs can provide even more energy savings and for a longer period of time. According to Consumer Reports, LEDs can last anywhere from 20,000 to 50,000 hours, which means owners can install an LED bulb and won't need to replace it for more than decade.
Enjoy a brighter environment

Unlike incandescent bulbs, which can give off a yellow light, LEDs provide a more crisp, white light, according to LED Luxor. This type of lighting provides a clear, bright environment, which can be particularly beneficial for people who have poor eyesight or have detailed-oriented hobbies like model cars or painting. However, for people who want a more traditional feel to their room, there are LEDs on the market that give off fewer blue tones and are closer to incandescent bulbs' color spectrum.
An added bonus of LED bulbs is they won't flicker, which can be irritating or even dangerous to people with certain medical conditions. Instead, LEDs eventually dim and are considered dead after losing a certain percentage of light.
Knowledge is power

Buying an LED lamp for the first time can be a bit more complicated than homeowners expect. However, they need only a few facts before heading to the store, according to Shrink That Footprint.
Next, homeowners will see many shapes and sizes of LEDs. The shape they want to purchase will depend on where they want the light to go. For common lamps, homeowners want the common arbitrary shape, but in fancy chandeliers, they may want the candle-shaped option.
Brightness may be one of the most important factors to keep in mind when buying LEDs because the wattage marked on an LED bulb won't be the same as on an incandescent or CFL. For instance, where homeowners would use a 60 watt standard bulb, they'll probably want to buy a 10 W LED.
Last, homeowners should consider the color temperature or spectrum. If they want the LED's light to be more like incandescent bulbs then they should purchase an LED with a warm white tone. For a blue light, they should buy a natural or cool white product.
First-time home buyers should contact The Federal Savings Bank, a veteran owned bank, to learn about current low mortgage rates.